Technical, economic, regulatory and policy factors will be evaluated as a multi-disciplinary group.

The 2019 return to Austria developed because more than a dozen cooperating partners in the U.S. and overseas showed genuine interest and volunteered their help.

RPG's first led a successful group trip to Austria in June, 2008. Technical developments since then support adding a stop in Germany this time.
Background

Background and Objectives
A group of 16 people, specialists in either forest management and protection or energy design and infrastructure, traveled to Austrian forest properties and biomass energy facilities during June, 2008.

The reason: to learn how the Austrian people were shifting to renewable heat sources at a dramatic, yet sustainable rate, with woody biomass as the largest contributor. The trip was co-led by Resource Professionals Group LLC and Mr. Lew McCreery, U.S. Forest Service forester and biomass coordinator, with sponsorship from Penn State University's Forestry Extension program. Registrants were a diverse group of business owners, foresters and engineers. Some were university faculty members, one a sustainability coordinator, another a land manager for a land conservation trust. Others were employed by federal or state agencies or private companies, with one representing a forest-owners' cooperative.

They wanted to find out if Americans could achieve the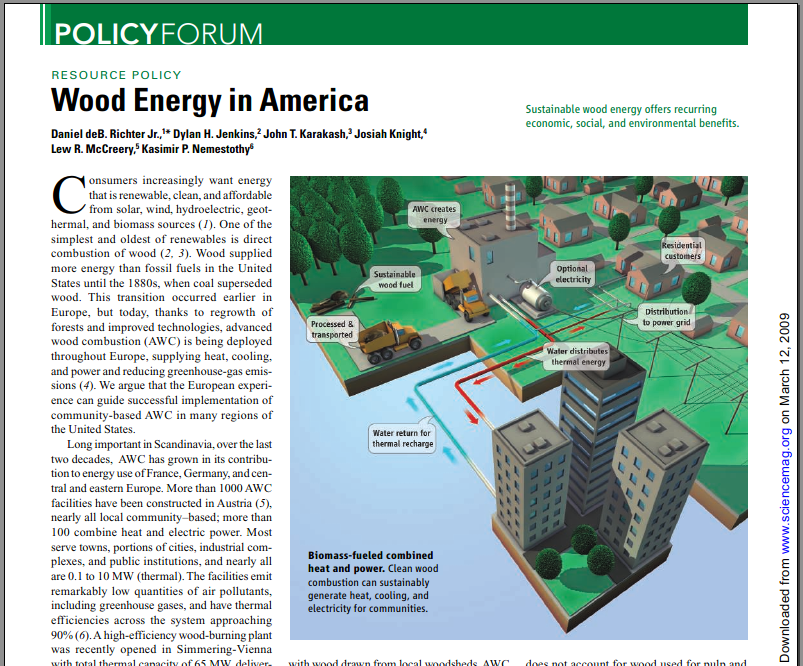 same benefits as were being returned to people, companies and the environment from biothermal energy projects in Austria. The consensus was that conditions are also favorable in the United States.

After returning home, most group members have stayed in touch. Individually, or in teams, awareness building and project feasibility activities were taken up, like authoring this Policy Forum in the March, 2009 issue of Science. (Richter, et al. 2009). In spite of their best efforts, though, the wood heat implementation rate in America still lags far behind that in Austria and other advanced central European countries.

There is a reason. Real estate developers and HVAC engineers may see biothermal energy as a potentially affordable step toward sustainability and facility resilience, but they have named genuine barriers. Among those: labor needs, however small; high capital investment; lack of confidence in reliability of equipment, fuel supply or service companies in the wood heat industry. EBF19 was designed to help American businesses overcome those very real factors. Adapted business methods and even better equipment used in the Austrian energy market can solve most of these rejection-causing "true barrier" problems in the U.S. energy market.

EUROBIOFOR 2019

The first step needs to be awareness building, among Americans, that wood-to-heat energy contracting businesses can be profitable. The process must be understood and successfully replicated here.

Trip objectives for EBF19 go beyond repeating 2008's success.


The model remains the same - - multidisciplinary collaboration to evaluate value and feasibility; now building on a decade of experiences and frustrations among 2008's participants that feasible wood heat project proposals in the U.S. are so frequently rejected.
EBF19's sponsors are working toward more direct outcomes:

New thriving, community involved businesses that supply renewable-source thermal energy - typically hot or chilled water supply - under contract, are formed with direct participation of trip registrants,


America's fossil carbon sourced fuels are reserved for purposes only they can commercially serve, like transportation, communications and lighting.


Solar derived woody biomass becomes the fuel of choice in HVAC and industrial heat applications, given its valuable attributes among renewable energy sources: capacity for on-demand heat release, universal availability and affordability.




The developing heat energy market retains money locally, an economic chain supporting forest thinning for wildfire prevention, and better use of wood chips from yard tree service and timber stand improvement.
Permanent jobs develop for newly trained workers in heat and forestry sectors, increasing opportunity and stability in that marketplace.





What is included in EBF19 registration cost:
(for full detail click HERE)
Participation with group at scheduled EBF 2019 registrant events,
Leadership services and advance preparation for scheduled events and meetings with information developed for EBF 2019 registrants,
Ground transportation with group on scheduled site visits, and from Wels to N

ϋ

rnberg, Germany
Admission to European Pellet Conference and other World Sustainable Energy Days programming, including access to the MESSE trade show event,

Check this link:
https://www.wsed.at/en/world-sustainable-energy-days.html
Scheduled reception and events including food as listed for WSED or detailed in EBF19 agenda,

Summarized report of activities and results of group evaluation discussions.
Registrant responsibilities

(for full detail click HERE)
Register

for EBF19 including payment of fees and receipt of confirmation

,



Confirm

lodging reservation

with hotel and

Notify

leadership team of arrival date,
Secure and bring

all required travel documents including passport,
Travel arrangements and costs

to group meeting base at Hotel Alexandra, Wels, Upper Austria and return home from hotel in N

ϋ

rnberg, Germany,
Lodging, food and personal item costs

other than specified above.

(Room blocks are reserved at group rates, which include breakfast),
Emergency contact data

for leadership team as required,
Travel insurance

(recommended),
Cost of self directed personal travel for activities outside the group registration agenda.
What to expect as a professional
Surprise at the strength of the Austrian biomass heating industry and potential in the U.S.,
Business opportunities helping U.S. firms increase competitivness, sustainability and resilience,
Exposure to friendly, technically detail oriented people, deep cultural history and natural beauty,
Direct answers to questions and solutions for known problems with wood heat installations, capital cost, labor involvement and similar "true-barriers" to installation,
An open door to collaboration with fellow registrants, trip leaders and host cooperating experts,
Travel companions with similar questions, interests and willingness to build on the experience,
Greater confidence in methods to sell more, build faster, reduce capital cost, commission successfully the first time, and operate over time with the available fuel products,
A positive experience in work travel that will be worth remembering and applying throughout your career.

HVAC design and wood products / forestry professionals know that wood can sustainably fuel many of America's industrial heat processes and commercial class building HVAC.

More systems must be successfully installed for market access to grow. Advanced wood-heat systems have reached over 40% market share in Austria.

EBF19 aims toward market expansion in the U.S. As a team, learning together, what is working in Europe, and evaluating how the best methods and equipment can be adapted to conditions here. This is a chance to become re-energized, enthusiastic again. With other top-level colleagues, developing solutions for important problems that affect us all.
Contact us:
PO Box 287, Harford, PA 18823
Phone: 570-434-2300 - Fax: 866-489-4657
Email Us
Copyright © 2018 Resource Professionals Group, LLC